How Using G Suite Can Improve The Way Your Business Communicates
Not too long ago, people had to get creative for their digital communication, expansive storage, sophisticated email, and collaboration needs. This often resulted in simple email setups taking longer than they should; missed messages from colleagues and other departments; and exhaustion from waiting for your turn to edit a document.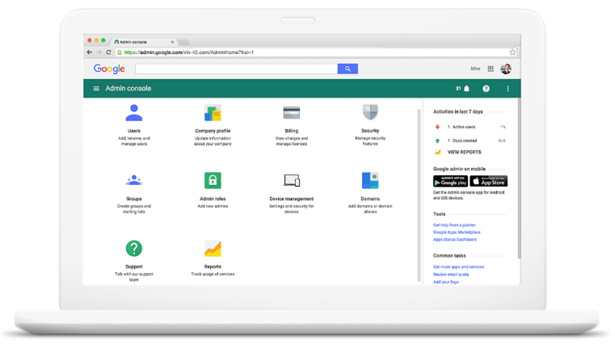 Today, G Suite (formerly known as Google Apps for Work) offers an affordable, scalable, and professional option for organisations of any size.
Why It's Worth It
There are plenty of reasons why you should make the switch to this package of web applications today. Some of them are:
Sharing
Are you working on a project with people who are in different places? When you integrate your entire team under one workgroup, you can easily share information across the suite with the simple click of a button. Multiple users can edit and view presentations, spreadsheets, and word processing documents all at the same time too.
With the sharing settings, you can also extend view-only access to people who need to get details on the document but don't require the ability to make changes. This makes it a great tool when you're dealing with telecommuters, contractors, or partners.
Ownership
Modern workplaces see individuals coming in on contracts then moving to another position. A quarter of jobs come with high turnover rates as people seek better opportunities. When people leave, you must ensure that you retain everything they have created for your organisation. G Suite makes it simple to create automatic backups of files and folders that used to be stored only on a local PC.
This also leads to continuity when people are on leave or holiday. Since creation and ownership is granted to the administrator, it's easy to assign a task to another person to keep productivity levels up or to change passwords to keep communications secure.
Email
There are more than one billion active Gmail users today. It's likely that any new hires or old employees are familiar with the interface and know how to use it effectively. Plus, with G Suite, you can have email addresses at your own domain. Not to mention that you can compartmentalise individuals who should be receiving specific messages into categories, be it Staff, Marketing, Accounting, Human Resources, etc.
At the same time, you are permitted the use of multiple aliases for every account. Let's say, for example, you're part of the human resources department. You can receive emails under freelancehiring@yourcompany.com and officerecruitment@yourcompany.com so candidates have specific starting points to get in contact. These aliases can be applied to multiple accounts so your staff can handle incoming emails as a team too.
Storage
The default size of a Gmail box is 15GB, spread between your email and your drive. The basic G Suite package bumps that up to 30GB at $5 per month. This can be upgraded by buying extra licenses for specific users. If you're unsure as to how much storage people need individually, you can have them buy their own extra storage too. All you have to do is switch on the Individual Storage service in your Admin console.
Amazingly, you can get upgraded to unlimited storage (at 1TB per user with 4 or fewer users) with G Suite Enterprise or G Suite Business. You don't even need to buy Drive storage licenses for it. You can sign up for G Suite here and see the available storage capacity options for yourself.
How to Set It Up
Now that you're aware how G Suite can be beneficial to your organisation, it's time to take the necessary steps to integrate it into your workflow. Of course, you start by signing up for an account. A handy wizard is available to guide you and can be accessible on the Admin console. It's ideal for running a pilot with few users or for configuring the package for SMEs. You can also go about it manually though.
Note: You'll be given the option to call an advisor to walk you through the steps. But if you feel comfortable about managing your website and domain name on your own, you don't need to avail of this service.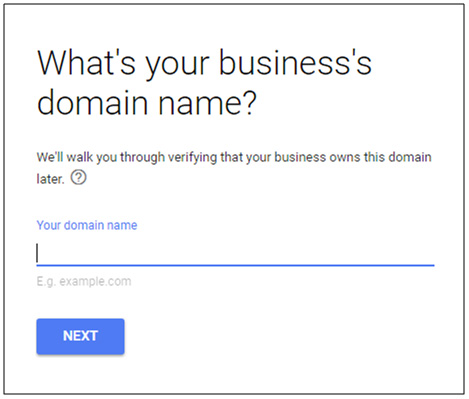 Add a Domain
Logon to the official G Suite site then click the Get Started button
Input your organisation name and number of employees

You can add more as your team grows

Choose your location for billing and locale purposes
Enter your email address where Google will send your account info

This can be your current business Gmail

Search for a new domain name or put in your current one

The rate is $12 per year for .com domain names

Input the name, email, and password you want to use for yourself

You'll use this to login to the apps in the future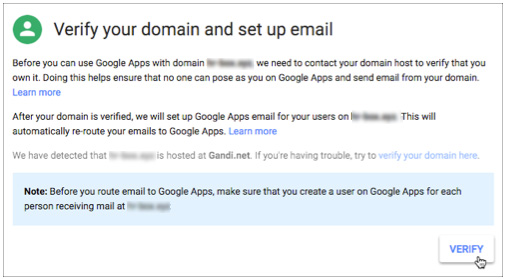 (https://support.google.com/a/answer/1389731?hl=en)
Verify Your Domain
Click on the Verify Domain notification

You'll find this on the Dashboard of the Admin console

Choose the method you prefer on the dropdown list

It's recommended to verify via your domain host
If you're unsure who your registrar is, look up your WHOIS information
*The following steps are in assumption that you're using the TXT method
Get the TXT record
Access your DNS zone file and add the record
Select Verify and wait for Google to confirm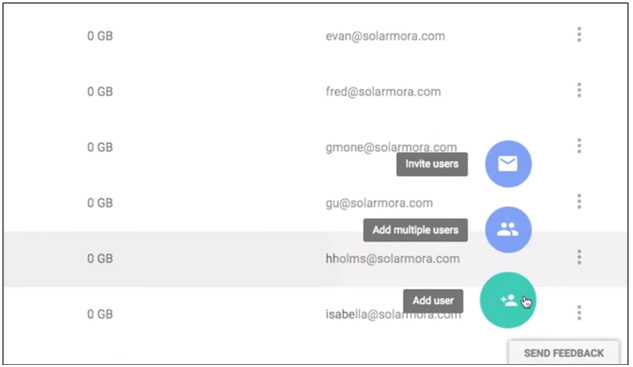 (https://www.youtube.com/watch?v=qdhwepcp5YI)
Connect Your Team
To add them individually:
Go to Users on the Admin dashboard
Choose the organizational unit where you want to add the user
Click the plus button and select Add user
Enter their last name, first name, and primary email

Double-check if they already have an existing account with Google

For accounts with multiple domains, pick the domain you want to add to
Set the initial password (optional)
Add contact information and employee details (optional)
Click on Create
Click on Print instructions or Email instructions to send to the new user

Be sure to send it to an email that is currently accessible and not the new one

Click on Done
Change additional user settings (optional)
To add them from a spreadsheet:
Go to Users on the Admin dashboard
Click on the plus button and choose Add multiple users
Download the sample spreadsheet or CSV file and leave the dialog box open
Open the file via Google Sheets or Microsoft Excel

There should be separate columns for each user attribute

Fill in the first name, last name, email, and password for each user
Fill in the other columns (optional)

You may add more columns for multiple addresses or phone numbers

Save the file and upload it via the dialog box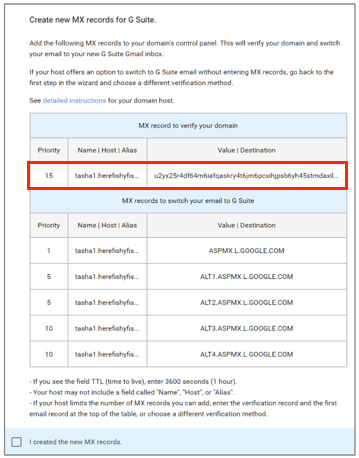 (https://support.google.com/a/answer/140034?hl=en)
 Configure Your MX Records
Sign in to your domain host account
Go to where you can update your MX records

This section might be labelled as "DNS Management" or "Mail Settings"

Delete existing records or change their priority number to 20 and higher
Add new records for at least the first 2 Google mail servers
Save your changes
Start using Gmail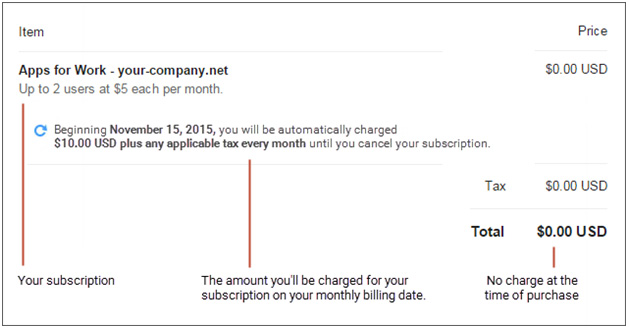 (https://support.google.com/domains/answer/6304544?hl=en)
Setup the Billing
Go to Billing on the Admin dashboard
Click on Set up billing
Select your preferred billing option

There are different plans and payment methods to choose from but be careful about the settings that you can't change later like the account type and currency
While there is a free trial period you can give a whirl, you'll want to set up the billing for your subscription early on if you want to continue using the service in the future. Don't worry as you won't be charged until your trial is over. Should you wish, you can cancel the subscription during your trial without paying for anything.
G Suite Helps Your Organisation Work Better
In less than an hour, you can have Gmail and other Google Apps on your own domain. This comes complete with extra features that can boost the productivity and efficiency of your team. Really, there is no reason why you shouldn't use the package for your company so sign up for G Suite here today. You can be sure that it will be worth the money and effort. Ardor SEO can vouch for it as it's what we're using to bring you the best services.