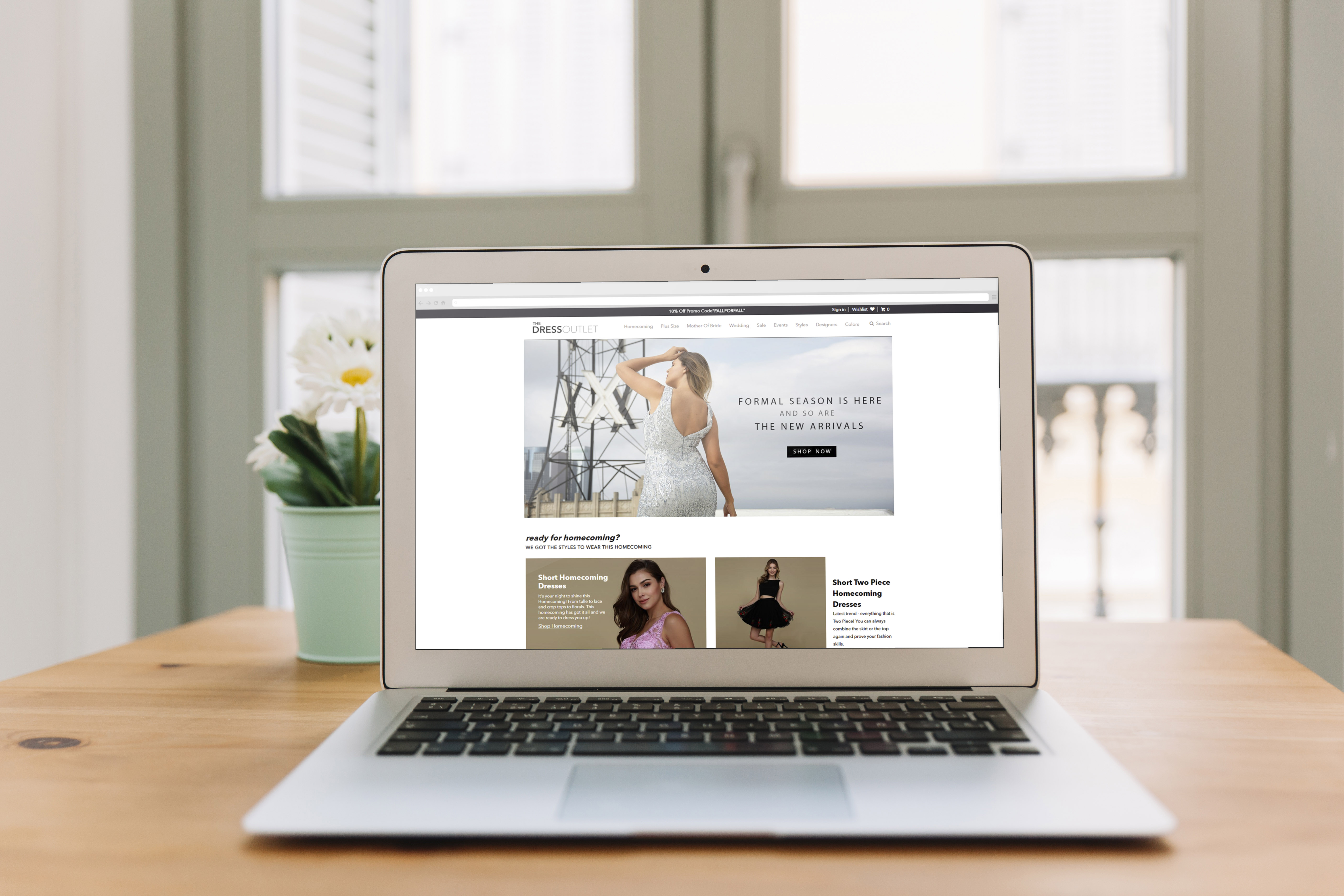 Background:
The Dress Outlet is an e-commerce store offering a very large range of dresses for women. From plus-size dresses to cocktail dresses, you can find anything in their store you need for a special occasion.
Given they have a lot of products and product categories, they have a lot of potential for organic traffic as well.
Dress outlet knew they had potential and wanted to increase their organic traffic. They contacted us in May asking us for a detailed audit and SEO strategy.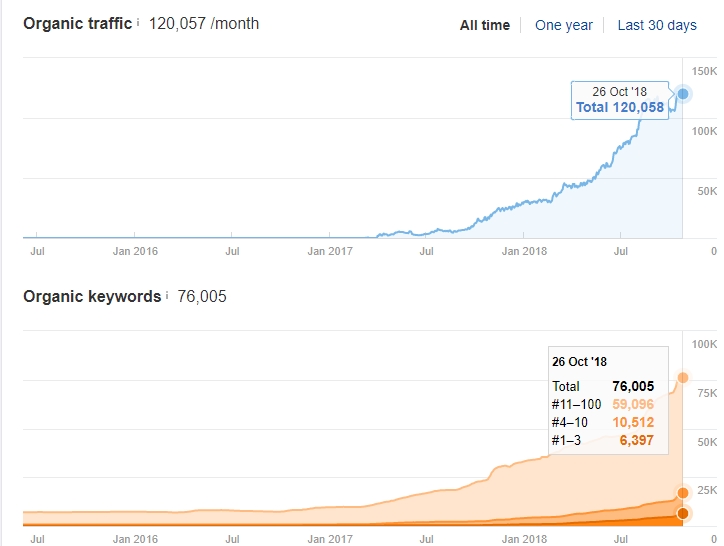 Since then, we have managed to triple their organic traffic and move up the rankings for a popular keyword, "mother of the bride dresses." This keyword gets an insane amount of search traffic, about 104.000 Searches per Month.
Our Approach
We have a certain process we follow with every client we take on. That process is creating an audit, doing a thorough keyword research and then creating the perfect strategy that will make them rank in 6 months.
We have used these tools throughout the campaign:
-Ahrefs
-Semrush
-Screaming Frog
-Google Analytics
-Google Webmaster Tools
How We Did it
Audit
First, we created an audit of the website. Given they have thousands of pages, this was not an easy task.
We used screaming frog for the audit process. As soon as the tool was done crawling the website, we noticed a lot of very similar categories, thin content pages, and meta property issues.
The most pressing issue was the multiple H1s every product page had.

Thanks to a hidden section, every product page on the website had two H1s, which confused Google about the topic of these pages, plus you should ALWAYS have only one H1 tag per Page.
Due to the very similar category pages, we also found a lot of pages cannibalizing each other and holding back rankings. This was due to other keywords mentioned on wrong category pages, and the lack of proper internal linking strategy.

We have managed to fix this by de-optimizing certain pages and incorporating a proper internal linking strategy.
The results of this were huge, as you can see below, the right pages started to rank for the right keywords, and they started properly rising in rankings as well.

There was also a ton of missing short and long meta properties that we then added. These are important to get done before we go about doing any backlinking.
This particular client, just like most e-commerce stores, had a common issue. They had query URLs indexed. We disallowed these in the robots.txt, then set them to 410 to let Google know that these pages are gone.
Keyword Research
When we started working with the client, the pages had no real keyword targets. With this in mind we done a keyword research, which ended with more than 500 good quality keywords.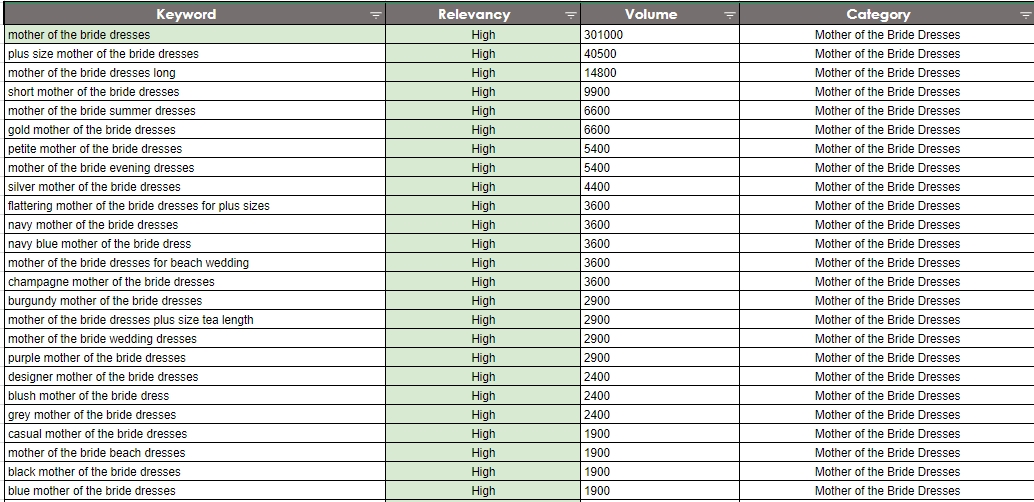 We used these keywords to set the perfect keyword targets for already created pages and used these to create informational content.
This helped us to rank these pages for long tail keywords that brought in a lot of organic traffic. Even though these don't have a high search volume, they are definitely worth going after because they have a much better conversion rate.
Backlinks
After we have finished fixing all of the On-Page Issues like the thin content pages, it was time to focus on backlinks.
We have a large network of authority websites and outreach partners whom we work with a lot of time.
First of all, we have to make a toxic link audit of the current website, to clear out any potentially harmful links they have acquired and submit a disavow request in Google Search Console.
After we have cleaned every toxic backlink off their backlink profile, we started the link building process.
Since the client had backlinks already, we had to do an anchor text analysis of the website and the competitors as well, as it is very important to check what percentage Google likes.
The golden days of set ratios like 50% branded 10% target anchor texts are gone. Every keyword and every niche has its own anchor text rules, which we analyzed using Ahrefs.
We have paid attention to not use the same anchor texts several times to avoid over-optimization issues.
Conclusion
Thanks to the work described here, the client received a 3x organic traffic increase and is very happy. To buy the same amount of traffic every month, they would have to spend $87,297. Instead, they hired us to form an SEO campaign and received the same results for a small fraction of the price.

Although the primary keyword is not in the first position, as it is an extremely saturated keyword, the results prove that you can gain a nice chunk of organic traffic with a perfectly made SEO strategy.
WANT THE SAME RESULTS?
Would you like having the same results in your ecommerce store? Let us make a Free Video Audit of your website and let you know what you need to do to achieve the same results!